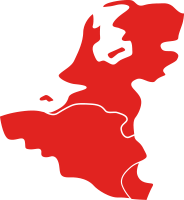 Delivery within Benelux
We deliver your goods on a daily basis within Belgium, but also to the Netherlands and Luxembourg. Since we are part of a network with several business partners, we are able to transport and deliver consignments throughout Benelux within 24 hours.
Groupage transport
Groupage means we transport several small loads together in the same vehicle.
By combining several consignments, we can offer our customers substantial savings! This is also a quick and cost-effective method for smaller companies with smaller loads to transport. In contrast to FTL (full truck load), this is where we use groupage, where the vehicle is not fully loaded and can be happily shared by several customers to keep costs down.
Several shipments each day for each customer provides a high degree of flexibility and versatility. 30 JET vehicles go out each day and manage 300 drops within Benelux. Groupage is organised through our Astre Benelux network. We rely on this network to guarantee an even smoother and better service throughout Benelux.
Do you have any questions about our transport services throughout Benelux?
Complete the contact form below and we will get in touch with you as soon as possible.