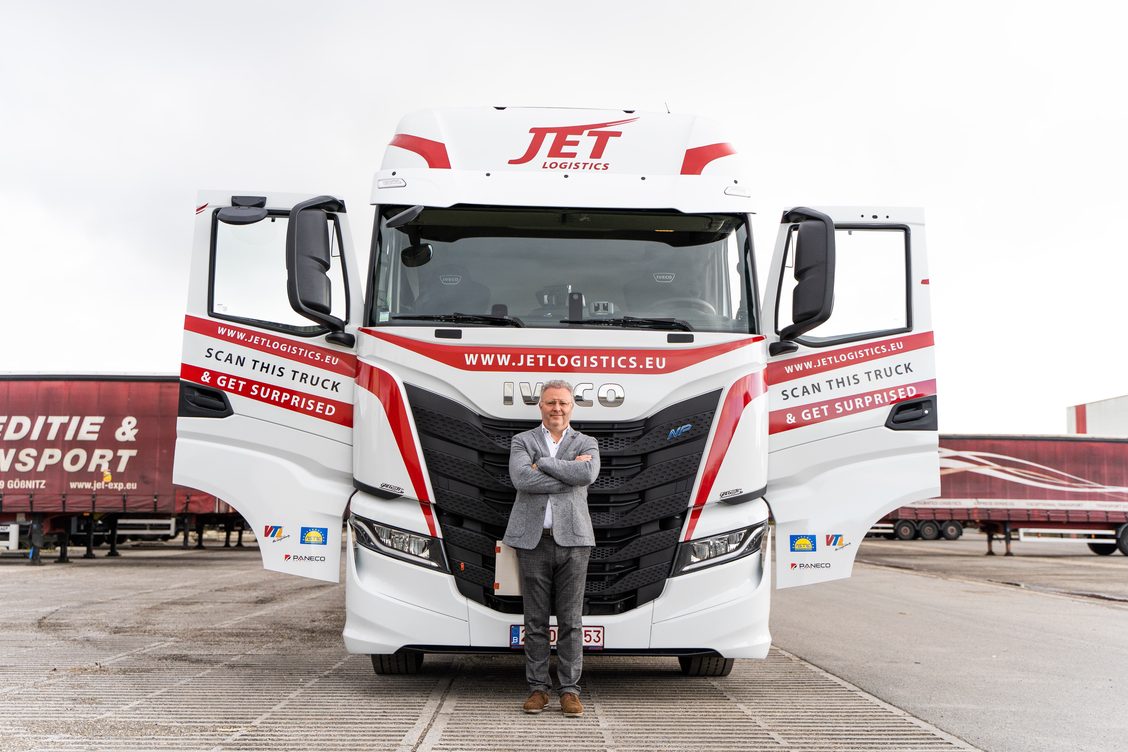 With 22 new trucks, JET Logistics hits the pedal on going green
OUDSBERGEN – 28 March. JET Logistics, specialist in transport and logistics, is growing strong and is taking a leap ahead. As such, the company saw a need to expand its fleet. To that end, JET Logistics is choosing to deploy new, but more importantly, more environmentally-friendly trucks. Both the transport company and the customer are increasingly aware of the importance of sustainability and are focusing on this aspect more and more.
The new fleet consists of 22 sustainable trucks that run on LNG, a liquid fuel that is more sustainable than diesel. The call for more ecological options is becoming louder.
Stefan Janssen, CEO JET Logistics: "We were not the only ones asking to make our fleet greener. Our customers and even our drivers are asking us to 'get with it' and hit the roads in a greener way.
Our customers are increasingly expecting a reduction in CO2 emissions. As a result, we are accelerating our action plan to reduce our emissions". Welcoming this new fleet is therefore another step towards more sustainable transport. JET Logistics not only focuses on a more sustainable fleet, but is also looking at more efficient waste sorting, LED lighting, solar panels and has a pending permit application for windmills.
The strong presence of JET Logistics in Europe as an additional asset
Investing in a greener fleet fits in with JET Logistics' vision for the future: "We are continuously reinforcing our international footprint. Within Europe, we have several warehouses that must admit us, in order to optimally use all transports.
No empty trucks, but well-thought-out supply chain management allows us to play off the strength of our network. As we have less trucks on the road and are driving smarter, this benefits both the customer and the environment. There will always be a need for transport. It is our job to coordinate this as cleverly as possible," says Stefan Janssen, CEO of JET Logistics.
Room for growth: capacity increased by 12%
In an increasingly consolidating market, JET Logistics makes it known through this acquisition that it wants to continue to grow independently. The company wants to differentiate itself from others on the market by investing in a smart modus operandi, but will not shy away from (transport) challenges either.
Stefan Janssen: "From end-to-end tracking to serving remote corners. JET Logistics is not only going for greener, but also for stronger and smarter."